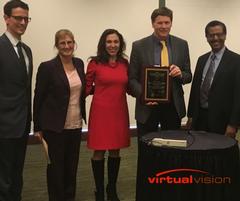 Virtual Vision was proud to attend "Mark Murphy's Celebration of Session 7 of the Green Bay Packers Mentor Protege Program. Virtual Vision is honored to be a mentor for the 2018 season and beyond.
The Green Bay Packers Mentor-Protégé Program pairs emerging businesses (protégés) with established, knowledgeable and committed companies (mentors) to help provide exposure, resources and guidance in order to reach the next level of business growth. For more information on the program, visit, http://www.packers.com/community/mentor-protege.html
Below is a picture from Wednesday, Feb 7th's event.
Pictured: Aaron Popkey, Green Bay Packers - Director of Public Affairs, Barb LeMue, VP Economic Development with WEDC, Anna Steinfest - Green Bay Packers - Mentor Protege Program MPP, Mark Murphy - President and chief executive officer for the Green Bay Packers, Seyoum Mengesha, Wisconsin Economic Development Corporation (WEDC.)
Pictured: (Left to Right ) Andy Scott, Jamus Baumgardt, Gary Reissmann , all of Virtual Vision.