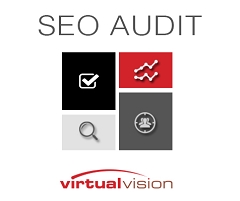 2015 is here....Is your website helping or hurting your business this year? If you would like a professional SEO Audit for your companies website, we can help.....After all, you simply cannot manage, what you cannot measure.
Our SEO Audit includes a full 7-10 page pdf breakdown of each and every page of your website. You will be fully equipped with the knowledge and information to get your site to the top of your desired searches, along with key factors, like mobile performance, and social media interaction.
The SEO Audit provides a detailed breakdown of the following categories:
Optimization
SEO
Mobile
Usability
Technologies
Promote
Social
Local
Measure
Visitors
Our website analysis tools allow you to determine the factors that influence search engine optimization and usability of your website. At Virtual Vision, we will help you find the the right words and phrases to attract users to your website by using effective keywords and descriptions. Our analysis is a fast and convenient way of ensuring your site is being noticed. There is no on going fees for this service, it is a one time fee, depending on how many pages of content we are scoring.
Be seen Everywhere
Target your Audience