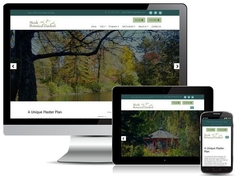 In just a few short years, the Monk Botanical Gardens has grown into an exciting community attraction. Visitors to the Gardens can relax in the contemplative environment of the Memory Garden and Memorial Plaza, climb the magnificent Treehouse, bring lunch and enjoy it under the roof at the "Potager" pavilion in the Kitchen Garden, view unusual plantings in the Meditation Garden, and explore the foot trails that wind through the fields and woods, and border the pond. These features are just the start of what in time will be one of the most picturesque botanical gardens in the region, if not the state. And it's all because of volunteers and donors—who have pitched in with expertise and funds to grow the Gardens to their present state.
Located at 1800 N. First Ave. on Wausau's west side, on 21 acres generously donated by the Robert W. Monk family, the Gardens have become an urban sanctuary for education, appreciation of our environment, relaxation and recreation. "What an absolutely awesome place…a magical escape into nature…" wrote one visitor on Facebook recently.
This site has a simple to use content management system, enabling the client to manage and update the site themselves. With more than 20 years in the business, Virtual Vision works with each and every one of their clients to understand their needs and then helps to develop a business strategy that drives success. Virtual Vision offers multi-site CMS managers for those companies that feature multiple brands, as well as blogs, web software development, email marketing solutions, and more.
Check out the new responsive website, where you can donate, sign up to volunteer, view upcoming events and more!