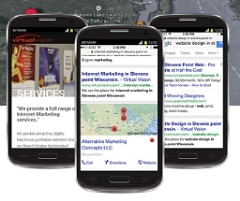 Why getting someone to your website is only half the battle: Going beyond SEO
Climbing your way up the Google totem pole is a battle that every business tries to succeed at. Being on that first page can impact the amount of people seeing your site exponentially. Getting the clients you want to your page is only half the battle, and here is what else you need:
1) The look is what draws someone in: If you have a website that is unappealing, people are not going to think you are credible and leave. A warm inviting site that has photos and content that draws a customer in will go a long way. Looks matter in the digital world.
2) How easy is it to get around: An online site is similar to shopping in a store. If the store is too cluttered and they can't find what they are looking for, they will not stick around to try and figure out where they need to go. Having a site that is clean, organized and easy to navigate will help you retain those on your site.
3) A clear call to action: Having a clear call to action is key. Understanding what you want your client to get from your site is very important. If your company would like them to call, email, fill out a form, etc… it has to be apparent. Making it clear will help the customers follow the next steps they should be taking, which will increase the amount of requests you will get.
4) Have a responsive website: Having a responsive website means having a site that resizes to every screen and every device. This is important when people are accustomed to searching on their phones and tablets for what they want. If your site is not responsive and they get to your site, the probability of the consumer staying to try and figure out the content is slim. Most people will leave your site and click for the next one, and see if that is easier to look at. In the blog See Four Reasons Why Your Business Has to Adopt Mobile Marketing they say, "So what that boils down to for marketers is opportunity, and for those who've either missed it or stubbornly refused to go mobile, a missed opportunity." Grab your opportunity!
5) Leave an impression: If your site does not create any initial contact, make sure you leave a lasting impression. When people research multiple similar products they only go back to the ones they remember and ones that left an impression. Using the correct pictures, words, and layout will lead to retention in the future.

Overall, reaching that first page on search engines is very important. The blog Search Engine Optimization (SEO) From A CEO's Perspective says, "If you don't show up on page one of Google, you have only a 9% chance of being clicked on. If you're past page two, the opportunity to get clicked is absolutely minuscule." However, do not waste this progress, by having a site that is not current, and unappealing. Know what your client is looking for and what you want them to see and promote that in the right way.
For more tips or information on creating an SEO ready and beautifully designed site, check us out!


Written by: Samantha Daly