Zero to 100% SEO for the Launch of a Local New Coffee Shop Website
Posted on: Friday July 7, 2023 at 2:18 PM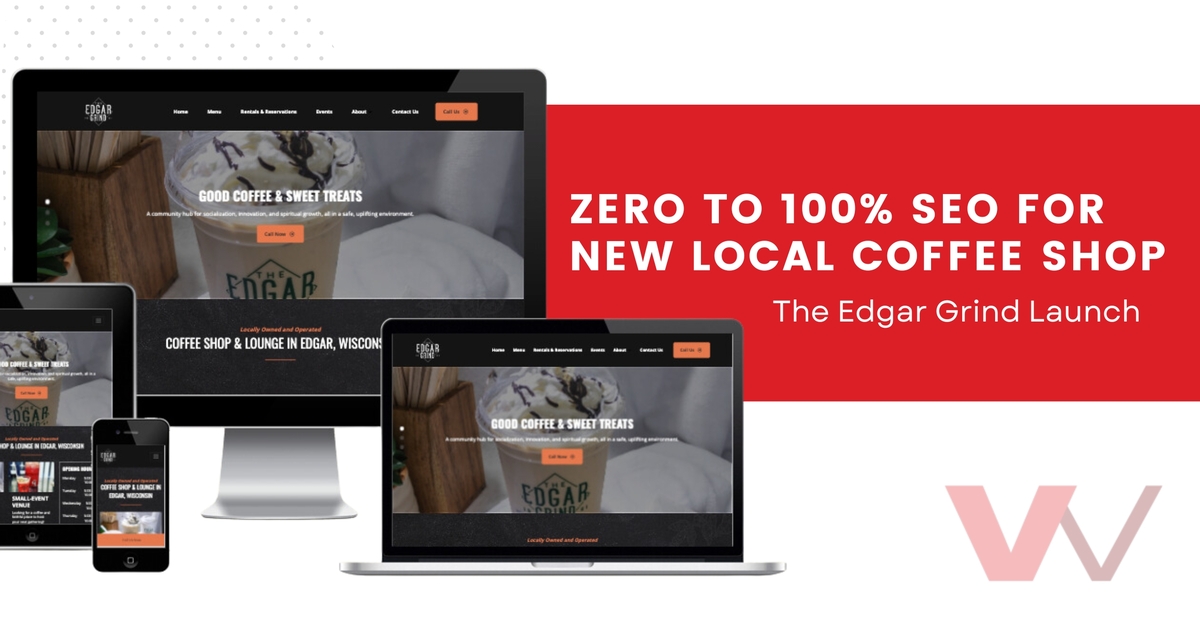 Zero to 100% SEO for a Cozy New Coffee : Website Launch for The Edgar Grind
We are thrilled to announce the official launch of The Edgar Grind - Edgar, Wisconsin's hottest new coffee shop & lounge! Step into this cozy space and experience the perfect blend of sweet treats, amazing coffee, and a safe environment for this wonderful community.
Our Journey Together:
As a brand new company, Dawn partner with Virtual Vision to build a strong online presence. With meticulous attention to detail, we worked closely with The Edgar Grind team to create a logo and a brand-consistent website that brought the vision for this space to live. We also began by verifying the Edgar Grind's new business was displayed accurately on all US-based business directories. This including claiming and optimizing their Google Business Profile. As the shop's grand opening approached, our designed captivating menu screens for their coffee shop that'll we'll continue to expand along with their offerings.
From Zero to 100% in SEO:
Witness the power of digital growth! After the initial website launch, The Edgar Grind went from having no initial digital presence to achieving a perfect 100% score in Search Engine Optimization (SEO) through Google. This ensures that they receive maximum visibility and attracts coffee enthusiasts from near and far.
Evolving Together :
Our partnership doesn't stop here. We are honored to collaborate with The Edgar Grind in continual website enhancement, creating an irresistible menu as their offerings expand, and provide ongoing organic and local listing optimization. As we always say, digital marketing is not "set it and forget it". We are honored to be able to provide ongoing services for Dawn and her amazing team to continue to build their brand and recognition in the local area.
Explore The Edgar Grind's website, get a taste of their delectable treats, and plan your next visit to experience the top-notch coffee and cozy ambiance. We can't wait to serve you!
View The Edgar Grind's New Website
Ready to Enhance Your Online Presence?
If you're a business seeking to elevate your online presence and drive growth, Virtual Vision is here to help. Our expert team specializes in crafting websites that not only look great but also perform outstandingly, providing exceptional user experiences and improved search engine rankings. Contact us today to discuss how we can collaborate and propel your business towards digital success.